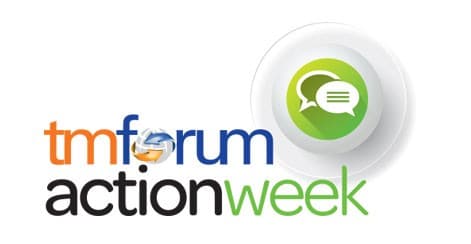 Action Week Vancouver 2017
Monday, September 25, 2017 from 9:00am to
Friday, September 29, 2017 from 5:00pm
Vancouver, BC
Make Lasting Connections. Impact Real Changes.
Move the Industry Forward.
Action Week is not a conference. As a TM Forum member, it's an exclusive opportunity for you to connect with peers from across verticals, collaborate to discuss critical industry challenges, create innovative solutions, and establish new best practices. It all happens here during a five-day series of workshops as you work hand-in-hand with teams of professionals committed to driving digital business design, development, and adoption.
Shape best practices and industry strategy as you collaborate with leaders from across verticals on these critical digital business themes: 
Digital Operations Center of the Future
Customer Experience
Internet of Everything
Frameworx
Data Analytics
Security & privacy
At Action Week Vancouver, You'll Learn How:
Frameworx's evolution will continue to support the operating modes and architectures of the future
To create and build the enabling Internet of Everything technology (technically and commercially) to support new business models across different ecosystems
To create an open Smart City information hub to connect disparate city ecosystems
Data-driven interactions affects customer experience its impact in the context of virtualization, the Internet of Me and the Industrial Internet
To define and implement solutions that provide a good return on investment through strong business cases, rapid deployment and streamlined operations, all while considering privacy
To put security and privacy basics in place holistically from the start, and how to evolve it evolve alongside technical and business innovations
---
See Why Action Week Attendees Participate:
"The cross-group-meetings Frameworx to Interest groups were very good."
Kaj Jonasson System Architect Ericsson AB
---
"Action Week Lisbon provided a way for me to immediately gauge the problems and issues faced by Telcos today regardless of size and location. Thanks to the attendance of various Service Providers and vendors alike working towards a common understanding of problems they face as well as how to solve them, I felt like almost anyone could become a domain expert in one week!"
Jonathan Smaller Solution Architect DGIT
---
"Attending the TAW in Lisbon offered me a unique opportunity to learn about TMF standards in Revenue Assurance area and at the same time to contribute to their further development."
Gjurgjica Pesheva Senior Expert Revenue Assurance Deutsche Telekom AG
---
"Attending as a new member, Action Week could have been very intimidating; I expected I would mainly be observing as opposed to actively participating. However, the inclusive atmosphere and encouraging manner of other participants made it easy to jump in feet first and contribute immediately."
Larry Chesal Spirent Communications
---
Action Week USA 2015 was an event worth attending because there was plenty of opportunity to discuss and "white-board" ideas and the associated, relevant concepts.
August-Wilhelm Jagau  Principal Solution Consultant, Ericsson Deutschland GmbH
---
Action Week is not like any other event — you are not a passive listener, but an innovator working with your peers to create tomorrow's best practices.
Dr. Gadi Solotorevsky
CTO, cVidya
Registration is coming soon!
You can expect all this and more during Action Week Vancouver 2017!