This page outlines projects that are part of the TM Forum Integration Program. A key part of the Integration Program is a set of Frameworx Interfaces. The diagram below outlines the steering teams as well as all the interface projects that are active in the TM Forum Integration Program. Click here for the complete project list.
Description and purpose
Service providers want to be able to select their operational and business management systems from various providers based on factors such as prices, quality and functionality. However, the price of trying to integrate and continue to maintain these systems from different suppliers can be high. This is often referred to as the "Integration Tax". The TM Forum Integration Program (TIP) has the goal of addressing and mitigating the integration tax problem by creating a set of standardized interfaces that enable rapid, repeatable and flexible integration among systems.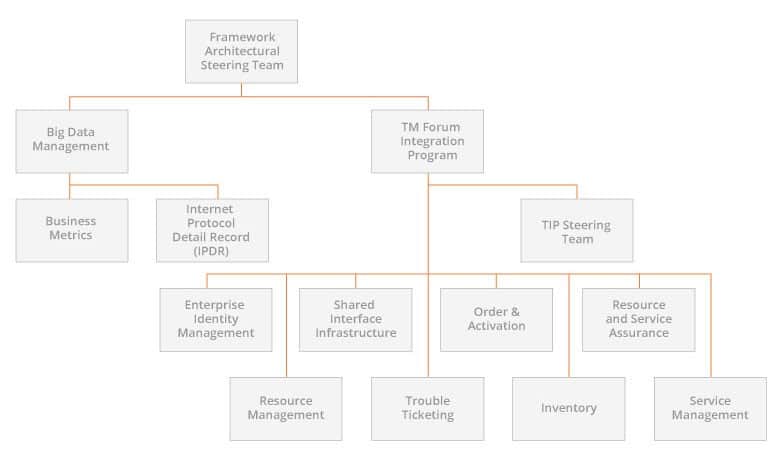 The Interface Strategy to meet these needs is outlined in the following TM Forum Integration Strategy document.
The TM Forum Integration Program (TIP) is responsible for the TM Forum work on business services, interface specifications, related Reference Implementations (RIs), and Compliance Test Kits (CTK) in accordance with the Interface Strategy set out in the TM Forum Integration strategy.
The TIP Program is broken down into an over arching co-ordination team, (the TIP Steering Team) and a number of projects which address specific technical areas.