Open APIs Enabling Digital Ecosystems
Wednesday, October 19, 2016 10:00am to 11:00am
New York
TM Forum Open APIs are part of an overarching API strategy for enabling digital business. Use of APIs can streamline IT across your business and increase agility, as well as facilitate partnerships and innovation.
Key Webinar Takeaways:
Understand where and how Forum Open APIs can be used in your business
Recognize how to use the APIs in the context of platform thinking to realize business strategy
How they can be used to enable interoperability and streamline operations
How the APIs can expose capabilities into an ecosystem and therefore create new market and partnering opportunities
How the APIs can be used in many different vertical contexts, including examples such as smart city platforms, use in industrial manufacturing, and examples from recent open hacks which include asset management applications and forest fire response applications.
How the vendor community are adapting their product portfolio in support of Forum Open APIs
The webinar will be an interactive discussion led by Joann O'Brien, VP Agile Collaboration, TM Forum with a number of key panelists from the communications industry including experts from the vendor community such as IBM, Ericsson and DGIT.
Speakers

Elaine HaherDirector, Business DevelopmentEricsson Inc.

William LambertsonVice President, IBM TechnologyIBM Corporation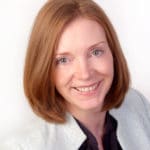 Joann O'BrienVP Digital EcosystemsTM Forum