Smart City InFocus 2015: Yinchuan, China
Friday, September 11, 2015 from 2:00pm to
Sunday, September 13, 2015 from 12:45pm
Yinchuan, China
Join government officials and C-level executives from around the world for an exclusive three-day event at the premiere Smart City capital of China.
Lanaguge:

Join the Smart City LinkedIn group
In partnership with the City of Yinchuan and ZTESoft, TM Forum Smart City InFocus 2015 brings together leading experts from around the world to accelerate the adoption of smart city standards and best practices. The smart city industry is growing rapidly – to an estimated 400 billion USD by 2020 – and has far-reaching impacts on society, from delivering services to improve citizens' lives, to making government more responsive and effective and allowing businesses to grow and thrive.
22 exclusive international speakers • 14 Smart Cities represented • 150+ senior delegates
The three-day event will comprise of:
11 September – join the inauguration of the TM Forum Smart City Innovation Center at the highly innovative Citizen Hall – the centerpiece of the Yinchuan Smart City. In the evening, you will be our guest for a VIP Gala Dinner, with ministers and other high-level officials in attendance.

14:00 – 16:00 – Smart City in Action – Tour of the Citizen Hall
18:30 – 21:00 – VIP drinks reception followed by Dinner

12 September – 09:00 – 17:45 – attend the Smart City InFocus 2015 conference, which will provide insight and practical guidance on the future of smart cities, services and implementation plans.
13 September – 10:00 – 12:00 – take a tour of the China-Arab States Expo and the smart services that have been deployed.
This one-day conference will cover key topics, including:
Creating a smart city blueprint
Enabling the smart city digital ecosystem
Understanding the fundamentals that underpin the building of smart cities
Engaging citizens and designing citizen-centric smart services
Harnessing data analytics to improve the life of citizens in smart cities
Building safe and secure smart cities
Request an invitation to this event
Due to popular demand and limited space, this is an invite-only event, tailored specifically for government officials and senior executives within select industries. Registering does not guarantee entry if you do not meet these requirements. We encourage you to explore our other upcoming events, which cater to a broader audience.
Agenda
Chairman
Carl Piva, Vice President Strategic Programs, TM Forum
09:00
Smart city discovery
The philosophy behind Smart City 2.0
Understanding the background and motivation for developing 'Smart Yinchuan' – PPP model
Unique 'Smart Yinchuan' – 'One Cloud, One Network, & One Map'
Exploring the future of 'Yinchuan-style' Smart City development
Senior Representative, Yinchuan Municipal Government
09:15
Collaboration between TM Forum, ZTEsoft and the City of Yinchuan
Peter Sany, CEO & President, TM Forum
09:25
ZTE – unleash the power of Smart-X
ZTE/ZTEsoft – embracing smart-life
Making the 'Smart City' smarter
Collaboration in digital economy
Jane Chen, Chairman, ZTEsoft
09:40
Developing the Smart City with the gene of 'Internet+'
China Unicom's thoughts on Smart City development
How to utilize cloud services and big data analytics to realize 'Internet+'
Highlighting a best practice Smart City in Guang Dong province
Jiang Zheng Xin, Senior Vice President, China Unicom
10:00
How cities are changing in the face of technology innovation and disruption
Examining the rapid change cities are undergoing due to technological innovations and changing social paradigms
The role of technologies (mobile, IoT, connected and autonomous vehicles, cloud, augmented reality, context awareness) in making cities more transparent than in the past
Examining a few of the interesting changes happening in Los Angeles and elsewhere with an eye towards how we manage the changes coming in the next few years
Peter Marx, CTO, City of Los Angeles (USA)
10:20
Getting the foundation right
Are smart city projects for citizens, technology companies, or governments?
Developing a scalable, open, flexible and secure smart city infrastructure
Engaging citizens and growing the economy
A scalable and sustainable business model
Developing the necessary policies and governance
Smart technology as one tactic in the strategy for city sustainability, resilience and liveability
Paul Wilson, Managing Director, Bristol Is Open (UK)
10:40
Building Smart City Seoul City through cooperation
Outlining the history of Smart Seoul City
Opportunities, challenges and strategies of building a smart city
The role of an open testbed in the cooperation
Young-hoon Choi, CIO, City of Seoul (Korea)
11:00
Morning Refreshments
11:30
Transforming to an engaged and connected city
How Mississauga leverages Smart City technologies to improve services, reduce costs and drive efficiencies with real time connectivity and data
Leveraging innovation, partnerships and a renewed IT master plan to position the City of Mississauga as a leader in Smart City best practices
Outlining the Smart City opportunities that have been created and that drive value for the customer and improve how the City delivers its services
An overview of exciting initiatives and current and planned partnerships
Shawn Slack, CIO, City of Mississauga (Canada)
11:50
Dubai: Happiness is a key driver of a Smarter City
As one of the world's fastest growing cities, Dubai is implementing its unique vision to become a smart city by focusing on technology as a means to the happiness of its people. The city has the fundamental advantage of being a greenfield smart city, given the rapid development of infrastructure underway as it prepares to host millions of visitors for the World Expo in 2020. The presentation will cover:

Examples like the Happiness Meter initiative for measuring resident and visitor experiences
The Open Data initiative for city-wide governance of data
The Smart Dubai Roadmap, outlining initiatives and services for city-wide implementation in 24 months
Dr. Aisha Bin Bishr, SmartDubai Taskforce leader, Executive Committee (UAE)
12:10
Five steps to build a Smart City
Samir Saini, CIO, City of Atlanta (USA)
13:30
Opening ceremony for the smart city project
13:45
Iskandar Malaysia – Accelerating sustainability through smart city initiatives
Definition and characteristics of Iskandar Malaysia Smart City Framework
Identifying catalytic projects through smart strategic investment
Datuk Ismail Ibrahim, Chief Executive, Iskandar Regional Development Authority (Malaysia)
14:05
Transforming into a smart city Providing quality of life through data and smart solutions
Itatiba solution cases

Citizen structured matrix – mapping the citizen with the public services
Smart security applied to public property – geo-fencing and automatic event generation
Smart security applied to public safety – deploying an integrated security platform

Itatiba smart places

Creating public spaces that inspire people to stay
Providing a local experience with entertainment, sustainability, mobility and security
Managing public spaces to ensure safety and quality of life
Jefferson Costa, Finance Secretary, Itatiba City (Brazil)
14:25
Smart City projects in the Lisbon economic and innovation strategy
A strategic vision – making Lisbon one of most competitive, innovative and creative cities of Europe
Lisbon´s four "Engines of Growth": "Atlantic Business Hub", "Lisbon: Start-up City", "Knowledge and Innovation Ecosystems" and "Lisbon Strategic Clusters"
Outlining Lisbon's holistic Smart City strategy that is built on four driving forces: "Energy transition", "Sustainable Mobility", "Digital Revolution" and "Open Innovation and Participation"
Paulo Carvalho, Director for Economy and Innovation, Lisbon City Council
14:45
What is the use of a smart city?
Smart energy city
Smart healthy ageing
Practical examples from Smart Users' City
Joost van Keulen, Vice Mayor, City of Groningen
15:05
Harnessing Big Data and data analytics to improve the life of citizens in smart cities
What are the opportunities for the use of big data in smart cities?
Leveraging data from sensor networks and ecosystem partners
Fostering innovation and new service creation with city data
Enabling more informed decision-making through the analysis of big data
Balancing privacy and data protection with data exploitation
Dr. See-Kiong Ng, Programme Director, Institute for Infocomm Research (Singapore)
15:25
Afternoon Refreshments
15:45
City Protocol Society – supporting local leadership and global city-to-city collaboration
Francesc Giralt, Director of Society Affairs, CITY PROTOCOL (Spain)
16:05
Taking the car out of carbon – Smart urban mobility
Projjal Dutta, Sustainability Initiatives, Metropolitan Transportation Authority New York (USA)
16:25
Exploring telecom's role in smart city development
Outlining Telkom Indonesia's framework for Smart Cities
Sharing experiences and lessons learned in developing Smart Cities in Indonesia
Joddy Hernady, SVP Synergy, TELKOM
16:45
The role of operators in developing the payment and transport infrastructure for smart cities
Karan Henrik Ponnudurai, Chief Innovation and Digital Service Officer, Celcom (Malaysia)
17:05
Panel: Tomorrow's smart cities
What are the smart characteristics of the future city?
How quickly will the smart cities evolve?
How will the role of ICT develop in smart cities?
How can you develop foresight capabilities within the cities and central government?
Joost van Keulen, Vice Mayor, City of Groningen (Netherlands)
Dr. Aisha Bin Bishr, SmartDubai Taskforce leader, Executive Committee (UAE)
Cathelijne Hermans, Head of Clusters and Projects, Amsterdam Economic Board (Netherlands)
Peter Finnegan, Director Office of Economy & International Relations, City of Dublin (Ireland)
City of Yinchuan
Yinchuan is the capital of the Ningxia Hui Autonomous Region, People's Republic of China, and former capital of the Western Xia Empire of the Tanguts. It has an area of 4,467 km (2,776 mi) and the city alone has a population of 1.99 million. The name of the city literally means "silver river."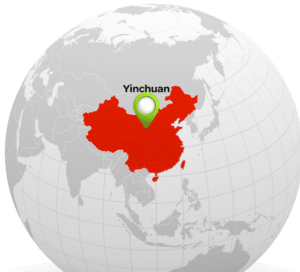 Thanks to the Yellow River, Yinchuan enjoys beautiful natural sceneries and favourable conditions for agriculture and has long earned the fame of a "River Side City in the Northwest" and "Home to Fishes and Rice". Yinchuan is now the permanent site for China-Arab Expo which is an international platform for cultural and economic exchanges between China and Arab countries.
Yinchuan Smart City and ZTEsoft were recognized for their exceptional development and acceleration of smart city potential by China's National Pilot Smart City, the number one smart city in the world. Their work is enabled by ZTEsoft's ZSmart products, which are based on TM Forum's Frameworx™ suite of digital business best practices and standards and being used to enable innovation through intelligent data analytics.
Travel
The city of Yinchuan has graciously offered to cover the complete travel cost, including flight, hotel and transfer, for select executives and government officials. To determine your eligibility, please complete the form on the registration page. If qualified, our representative will contact you shortly to help make your travel arrangements.
Getting There
Yinchuan Hedong Airport (INC) is 25 km from the city center and has direct flights from Beijing, Chengdu, Dunhuang, Gangzhou, Hohhot, Shanghai, Xian, and Zhengzhou.
Getting Around
Taxi
Taxi from the airport will cost you 60 Yuan to the downtown area. The starting price of the taxi in Yinchuan is 5 Yuan for the first 3 kilometers, and 1 Yuan per kilometer thereafter. After 22:00, the starting price is 6 Yuan for the first 3 kilometers and 1.2 Yuan per kilometer thereafter.
Bus
There is a shuttle bus between the Yinchuan Hedong Airport and Yinchuan city. Its departure is in accordance with the flights. The ticket price is 15 Yuan. The routine of the shuttle bus is Airport — Civil Aviation Tower — National North Street—International Restaurant — Century Tower (Xingqing District). Passengers starting from Yinchuan city can take the shuttle bus at the Century Tower. The departure time of the shuttle bus is 2 hours before the flights' departure.
There are dozens of bus lines in Yinchuan City, which travel between the Old Town, New Town and New Urban District. There are also buses traveling to and from Yongning County and Helan County. Yinchuan buses stop operating early at night, with most lines closing before 19:00. The ticket fares start at RMB 1. Three travel line buses (Travel 1, Travel 2 and Travel 3) operate from April 20 to October 20 every year. The buses depart from New Moon Square and provide service to the Imperial Tombs of Western Xia, the Rock Paintings in Helan Mountain and The Town of Fort Western Film City.
Health & Safety
Even though Yinchuan is a safe city, you should take the following steps whenever you travel:
Make a copy of your passport, and pack it in a place separate from where you are carrying the original
Leave a copy of your itinerary with family or friends at home
Don't use short cuts, narrow alleys, or poorly lit streets
Try not to travel alone at night- if you have no choice, let a colleague know where you are going
Familiarize yourself with emergency exits and procedures at the venue, and your hotel
Travel Resources
For anyone traveling to Yinchuan from another country to attend TM Forum Smart City InForum – you are advised to check with your country's appropriate government agencies for VISA and travel information.
If you need a VISA invitation letter, please contact us at [email protected] and provide your passport details.