Autonomous Networks Project
Autonomous Networks (AN) powered alongside other technologies such as AI, big data, cloud and edge computing will make services quicker, cheaper and simpler to deploy and manage. Service providers will also be able to unlock over $700 billion of new revenues from industrial 5G and B2B2x opportunities that require automation to manage the billions of devices connected to the internet as well as deliver on the ultra-low latency and high reliability many 5G use cases require. AN will also enable CSPs to deliver a "Zero X" (zero wait, zero touch, zero trouble) experience deliver simplicity to the users and leave complexity with the providers.
AI Operations Project Overview
The Autonomous Networks Project aims to define fully automated zero wait, zero touch, zero trouble innovative network/ICT services for vertical industries' users and consumers, supporting self-configuration, self-healing, self-optimizing and self-evolving telecom network infrastructures for telecom internal users: planning, service/marketing, operations and management. AN incorporate a simplified network architecture, autonomous domains and automated intelligent business/network operations for the closed-loop control of digital business, offering the best-possible user experience, full lifecycle operations automation/autonomy and maximum resource utilization.
Read the whitepaper – Autonomous Networks: Empowering Digital Transformation for Smart Societies and Industries 
Find out about the progress made on creating an industry standard framework for autonomous networks which is use case driven, based on autonomous domains and intent driven interactions. It also outlines the new simplified network infrastructure needed as well as self-X operating capabilities.
TM Forum Autonomous Networks Program
Making zero-touch operations a reality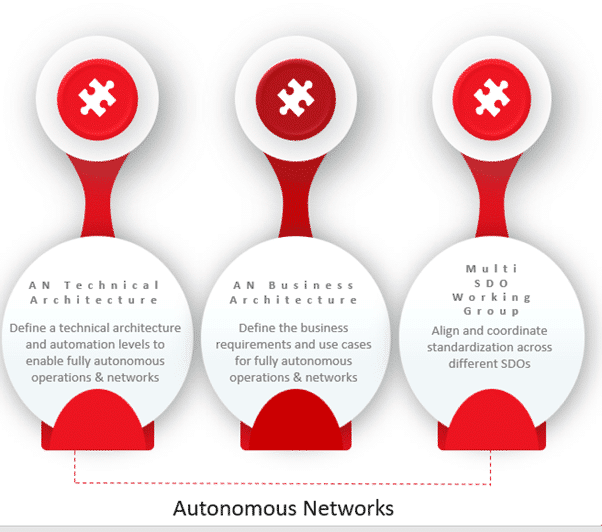 Learn more Autonomous Networks
Autonomous Networks Videos
Learn about the member projects and Catalyst projects working on the topic of Autonomous Netwrks.
Aaron Boasman-Patel explains the importance of the work of the Autonomous Network projects and the key challenges they are addressing.