What is a Catalyst?
Catalysts are proof-of-concept projects developed collaboratively by TM Forum members. These projects bring together companies large and small to create innovate solutions to common challenges demonstrating how this can be achieved leveraging key TM Forum best practices and standards. Many innovative and thought-provoking proof-of-concept projects turned prototype have been created by the Catalyst program.
Catalyst projects kick-off at our Action Week events, then the teams work together over a period of 4 – 6 months and develop their solutions that they demonstrate at TM Forum flagship events. The most recent set of Catalyst projects will take center stage at TM Forum Live! 2017 in May,
Key Dates
May 15-18, 2017: Catalysts present at TM Forum Live! 2017
Sept 25-29, 2017: Action Week Vancouver 2017
Whether you are considering joining a project or already in an existing one, here is your guide to a successful Catalyst project!
Download the Catalyst Reference Guide
Catalyst Roles
There are two types of roles in a Catalyst:
A champion is an organization seeking a solution to problem.
A participant is an organization contributing to solving the problem.
PLEASE NOTE: The pricing below is for Catalyst participants only! Champion companies are free. Click here to see current Catalysts.
|  Membership Level | € (Euro) |
| --- | --- |
| Corporate A1 | 13.4k |
| Corporate A2 | 13.4k |
| Corporate A3 | 8.9k |
| Corporate B1 | 8.9k |
| Corporate B2 | 8.9k |
| Corporate C | 6.7k |
| Corporate D | 5.5k |
| Corporate E | 2k |
| City | |
Learn more about our Catalyst program:
Catalyst Program Benefits
Catalyst participants gain extensive benefit, both business and technical through their participation. The short term duration and common goals of the projects lead to close working relationships being formed, that often blossom to long term business relationships.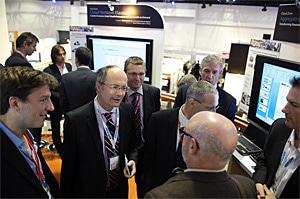 Virtual Research and Development
Learn how your solution works with others in the industry in a hands-on environment
Collaborate with like-minded companies on best practices
Rapid and Cost Effective Results
Catalyst projects take place over a set amount of time, so results are typically guaranteed in less than 6 months
Service providers get the results they want without the constraints of an RFP process and huge budgetary investments in their labs, enabling better investment decisions
Develop Working Relationships
Service providers gain exposure to a variety of vendors and can directly influence product development
Vendors get real requirements first hand from service providers
Formal business relationships and partnerships frequently develop due to trust built up over the project lifecycle
Increased Marketing Exposure
Catalysts information to be hosted on the TM Forum website and TM Forum Inform channel
Opportunity to publish additional blogs, written interviews and articles
Interview to be included in the membership monthly newsletter (sent to approx. 65,000)
Catalysts to be included in relevant newsletters (Agile IT, Customer Centricity & Open Digital) (sent to approx, 135,000 readers)
Catalysts to be promoted via TM Forum social media channels (including Twitter, Facebook and LinkedIn)
For more information, contact Catalyst Program Manager Jean-Pierre Dufresne at [email protected].