Practical tools for navigating the maze of digital transformation
The digital revolution brings significant opportunities and threats, impacting every industry. Communication Service Providers (CSPs) can embrace significant growth opportunities by looking beyond connectivity. At the same time, commoditization and digitalization of connectivity services have created an urgency to dramatically simplify and transform the efficiency of existing business. 
To help TM Forum members navigating this complex digital transformation journey, leading CSPs and global consultancies have worked together in a collaboration project to develop the definitive telecommunications industry standard Digital Maturity Model (DMM) and a set of key strategic KPIs. See the model overview below.
Key resources
Digital Maturity Model (DMM)
TM Forum's Digital Maturity Model offers a practical approach to transformation. It has been crafted over the course of many months by industry thought-leaders. CSPs, technology companies, and global advisory firms that have pooled their knowledge and experience to create a model that can be used to identify possible investment priorities and manage the journey itself, step-by-step.
The model is split into six dimensions: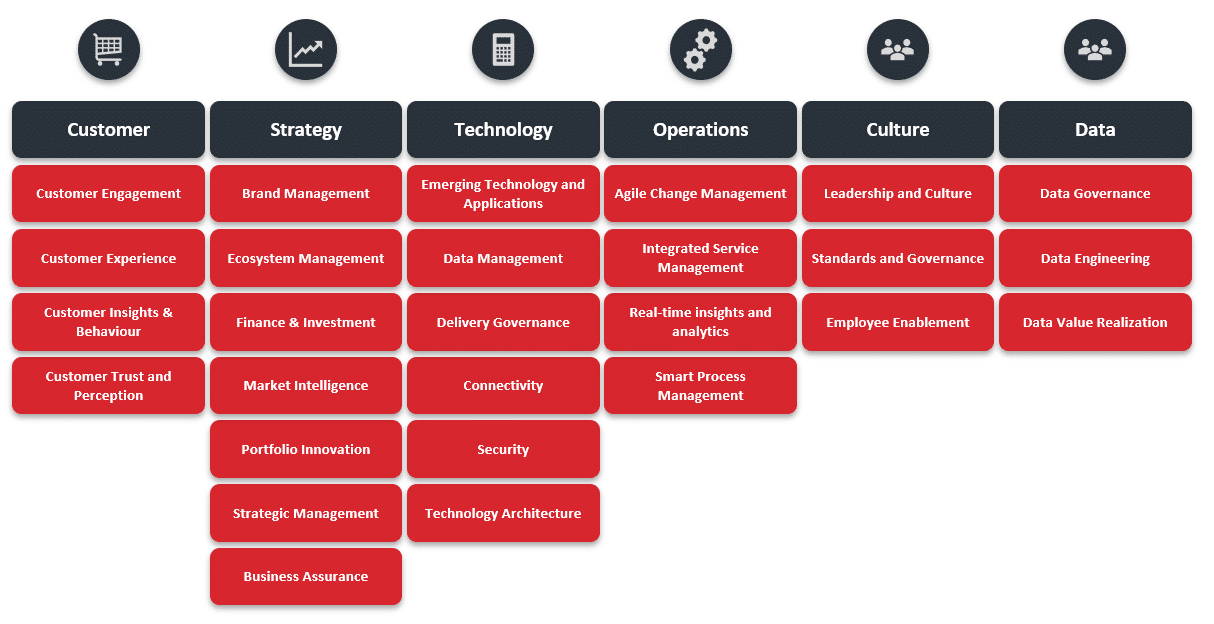 Customer – Providing an experience where customers view the organization as their digital partner using their preferred channels of interaction to control their connected future on and offline.
Strategy – Focuses on how the business transforms or operates to increase its competitive advantage through digital initiatives; it is embedded within the overall business strategy.
Technology – Underpins the success of digital strategy by helping to create, process, store, secure and exchange data to meet the needs of customers at low cost and low overheads.
Operations – Executing and evolving processes and tasks by utilizing digital technologies to drive strategic management and enhance business efficiency and effectiveness.
Culture, People, and Organization – Defining and developing an organizational culture with governance and talent processes to support progress along the digital maturity curve and the flexibility to achieve its growth and innovation objectives.
Data – Evaluates the organization's ability both strategically and operationally to ethically and effectively use data and information assets to maximize business value.
Strategic KPIs for Digital Transformation
The collaboration project has produced a set of 30 key performance indicators (KPIs) and associated metrics. They are designed to equip your executives for effectively choreographing all the resources in your organization to frame your fundamental digital transformation business score card and effectively drive your business goals. Download here
Learn about Digital Transformation & Maturity
Training
Upskill yourself or your workforce with training courses and certification on the concepts of digital maturity and transformation and get practical guidance on how to plan and execute programs to drive digital transformation
Digital Maturity Readiness Check
Engage our experts to leverage the Digital Maturity Model to assess the relative maturity of your organization's competency in key areas to help identify opportunities for improvement and priorities for investment
Toolkit
Access and download all the assets created by the Digital Maturity Model collaboration project team including the model, poster and KPIs guidebook
Digital Transformation Trackers
Get insights and analysis of digital transformation industry trends with TM Forum's series of tracker reports on transformation and digital maturity
Digital Maturity Model video endorsements
Get involved
Get involved with other TM Forum members in the Digital Maturity Model (DMM) project to actively maintain and develop the digital transformation and maturity tools and standards.