Capitalizing on the 5G promise
The technical capabilities of 5G are being widely discussed, but it is much more than a speed evolution of previous generations. As well as enhancing existing services, 5G has the potential to open up huge new opportunities such as those presented by the Internet of Everything, smart devices, cars and even cities.
What is 5G?
The details specifications are still evolving but some of the key goals are already clear.
Lightning speed: Companies leading the charge have said that 5G speeds could be up to 100 times faster than 4G LTE speeds, enabling services to make use of ultra-high definition video and other bandwidth hungry applications.
Ultra-reliability and Low latency: With 5G, latency can be reduced by more than a factor of 10. This, coupled with enhanced levels of security and reliability, opens up a world of new opportunities in areas such as connected cars, digital health and more, which are simply not viable today.
Massive Machine Type Comms (mMTC) Existing systems were designed for one device per subscriber and relatively large data volumes, they cannot support billions of devices nor their different demands, such as passing tiny amounts of data efficiently. 5G's ability to do this will unlock massive opportunities in the Internet of Everything.
Network slicing: Different applications have different requirements on the network, they need different combinations of the characteristics detailed above and can bear different price points. 5G will allow operators to deliver what is required through 'slicing'.
5G presents an opportunity to utilize these innovations to both evolve existing business models and open new ones. Communications service providers are well placed to take a significant slice of this opportunity, playing a variety of ecosystem roles.
Capitalizing on the 5G opportunity
5G promises to be a true revolution rather than an evolution. In order to capitalize, operators must make sure their business is prepared. In many cases this not only requires deploying the new technology but also executing on significant business transformation.
Much of the focus on 5G today has been on how we technologically innovate – on things like spectrum and regulation and the underlying technology, but focusing on this aspect alone and ignoring the wider business implications will mean that enterprises may miss many of the true growth opportunities that 5G represents.
For example, being able to cost effectively work with a myriad of ecosystem partners by automating operations, supported with new highly automated OSS/BSS solutions. Businesses will also have to think about how they change their approach and the position of the customer, using concepts like design thinking to put the customer at the center of the process and then use deep analytics to understand that customer lifecycle, continuously engage them and provide services they want dynamically at the time they want.
All of that leads to a business that is continuously evolving; one that embraces open innovation and agility and increases the ability of the whole business to respond at the speed of the market. Creating a truly adaptive digital businesses and seizes the opportunities of 5G and other technologies as they arise.
5G: Are you ready?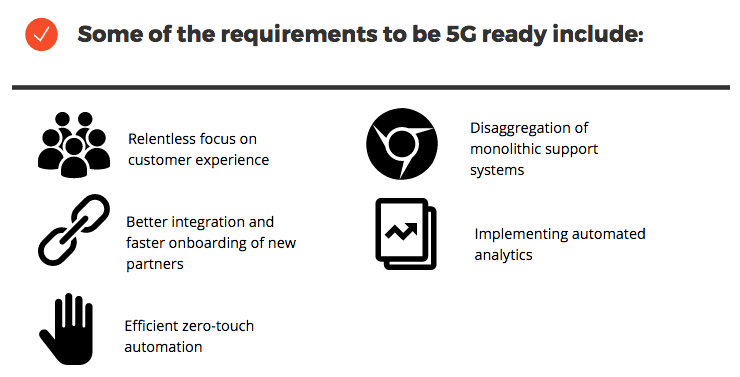 Enabling this holistic transformation is TM Forum's focus through our work in areas such as Open APIs, a new Digital Platform Reference Architecture, ZOOM and much more.
Get involved in a number of 5G initiatives 
5G
News
Collection of articles, research reports, videos and more
5G
Survey
Operational barriers and catalysts for 5G
5G
More Information
For latest workstream information, upcoming projects and more

EVENT
Join us in Nice to explore, collaborate, and create the future vision for digital transformation of the telecoms industry worldwide.